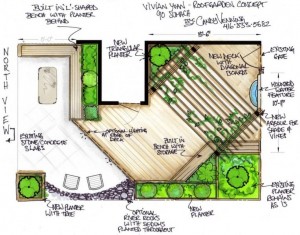 Venni Gardens: Landscape Design will oversee your project from initial site consultation and assessment, through design planning and blueprints, contractor quotations and  installation. Continuity throughout the entire process means we complete the vision.
The Details…
On your very first visit a consultation fee of $200 will be charged. This covers one hour of the designer's time to be on site, discuss the property, provide a hand drawn sketch and take measurements as necessary.
A minimum charge for a scaled computer layout starts at $800. Any structural work or a large amount of hardscaping, (pathways, pools, stonework etc), will require multiple site measurements, photographs, and a  survey when available.
This plan (handrawn on site or drafted with CAD) will be yours to keep and will provide the basis for any quotes.
The services we offer start with a design and carry through to completion with a group of highly qualified and very specialized contractors that take pride in their work (designer, stonemasons, carpenters, planting crews, lighting and irrigation). Excellent relationships between contractors ensure every job is completed to the highest standard. We want to photograph your garden next!
Other areas of interest that we can help with include; Consulting and advice, Ecological Conservation, Ravine Management, Horticultural Planning, Landscape Architecture, site evaluation, soil amendment, drainage issues and Urban Design